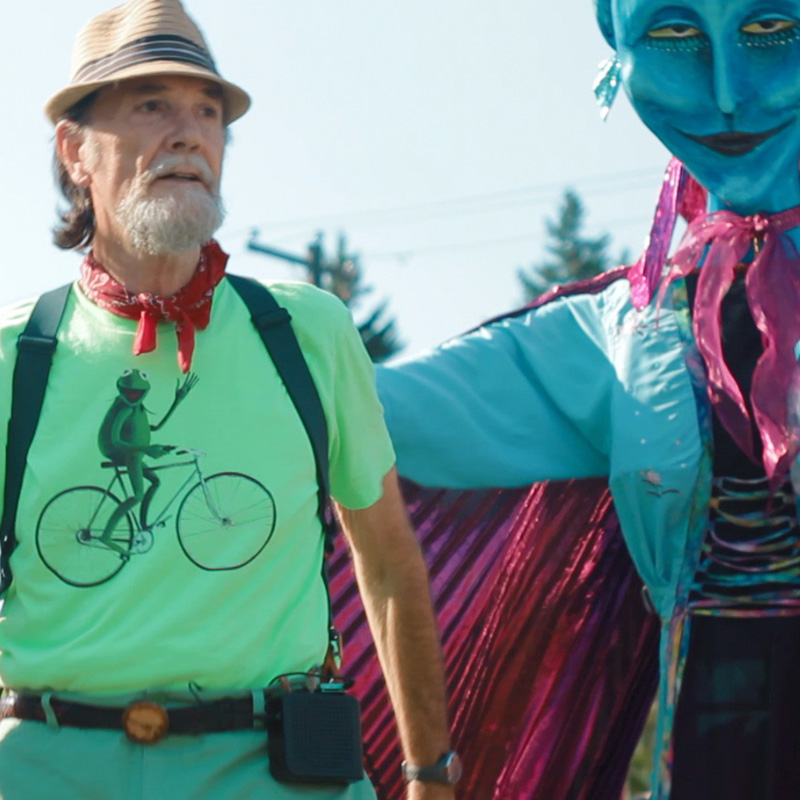 In my ongoing efforts to film more, I have been looking for every opportunity to get out and capture local footage. Last Sunday, I had the distinct pleasure of filming the Dancing Duck Man and Andorra his blue 9+ foot alien companion at the Festival at Sandpoint "Family Concert".
I have known Jerry Luther for more than thirty years, I first met him when I was around ten years old when he was selling "Hooey Sticks", back when the Cedar Street Bridge was filled to the brim with artists and crafts people and the draft horse powered carriage would give people a tour of town every hour. Downtown Sandpoint was really a very special place back then. Perhaps in a future outing, I can film Jerry to do the "Hooey Man" pitch complete with bumpy propeller stick and all.
It was so much fun to finally be able to get some video of the Dancing Duck Man. It is quite magical to witness first-hand how the kids react to his ACT. To start it off, I got some decent interview footage, except for background noise from the "Instrument Petting Zoo" that disrupted some of the audio, oh well. Not to worry, the real magic is in the performance.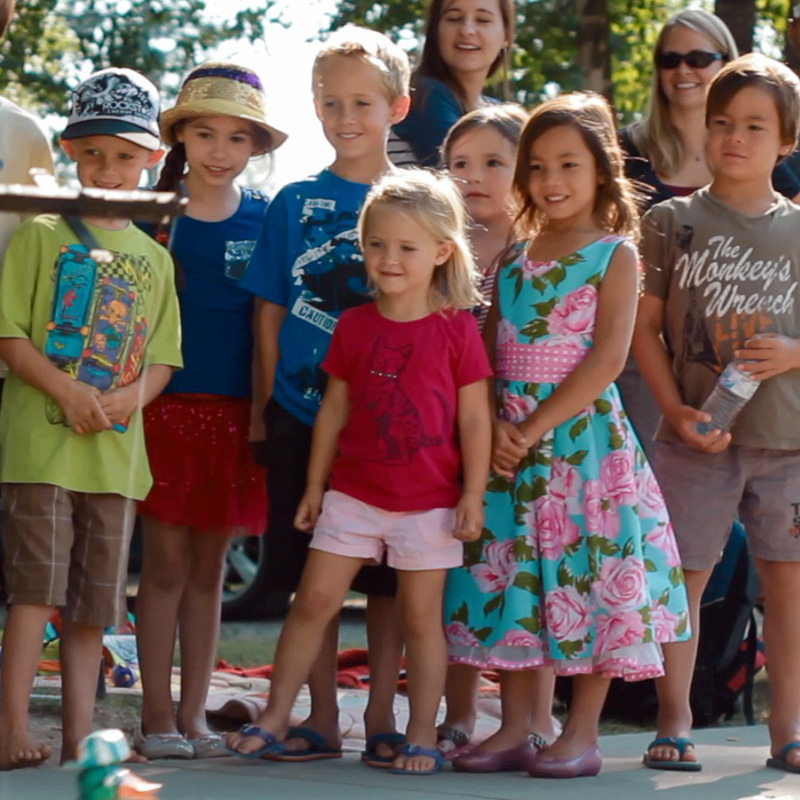 The Dancing Duck Man and Andorra started off by wowing the kids in line who were waiting for the gates to open. There is something truly special about seeing children interacting with a live performer. I think the experience is even more important these days with all the electronic static that seems to fill every moment of most children and adults time.
After greeting the entire line we took a short break then headed out again to dance our way through the festival's pre-concert activities. What fun! I even found myself laughing out loud while editing the video clips that were captured. Speaking of, here is the resulting completed video from that day. I hope you enjoy watching it as much as I enjoyed creating it. More thoughts below the video…
Filming with a DSLR Camera
One thing I love about the small form factor of DSLR cameras is that most people think you are just taking photos. The smaller size seems to help people be more at ease and natural than if I had a huge and intimidating video camera. I shot nearly all of the footage from the height perspective of a child trying to always be in a position to capture special moments as they unfolded. As with all outings, I learned a ton and will put the lessons learned into bettering my next filming opportunites.
Here are four things that may help others using a DSLR camera for live performances.
For the camera gear geeks…
Camera Used: Canon 60D with Magic Lantern firmware tools
Lens Used: Vintage, all manual Takumar 55mm f/1.8 lens with M42 to EOS adapter
In-camera Custom Picture Style: CineLook by VisionColor
Tripod and Head: Aluminum tripod with a Manfrotto 701HDV fluid head
What is next in cue?
Two items I still have to edit are the Chautauqua that came through Sandpoint and the Sandpoint Fly-in which I shot last weekend. Not sure when I will have time to do them, but they will be posted in the blog when they are complete.
Want to be part of future projects like this or perhaps you just want to get more familiar with the video capabilities of your DSLR or mirrorless camera? Join the no-cost Sandpoint Filmmakers Network and become part of a pool of local resources for making films in Sandpoint.
Feel free to comment below, just be sure to solve the SPAM prevention math problem before submitting your reply.