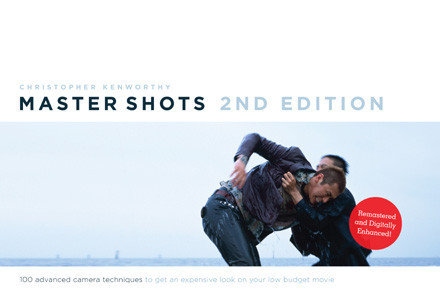 I have read a lot of books about filmmaking over the years and while some are better than others, very few give concise actionable examples with diagrams and suggest exactly how and when they should be used. This is where Master Shots 2nd Edition by Christopher Kenworthy stands in a league of its own.
The sub title of the book promises "100 advanced camera techniques to get an expensive look on your low budget movie" and it delivers on its promise. While not all of the chapter titles fit the type of films that I am looking to make (Fight Scenes for example are not my cup of tea), all the techniques discussed in every chapter are relevant to all kinds of story telling and even chapters that I was thinking of skipping proved to be extremely relevant. This book truly does inspire me in ways that few others have done.
The book is structured in such a way that you could grab it while reading through a script and simply note sections that you want to review before shooting certain scenes. The shot suggestions may not be something that a filmmaker would exactly follow, but this book opens up multiple possibilities, many of which may have not been considered. From Entrances and Exits, Dramatic Shift, Revelation & Discoveries to Directing Attention, Dialogue Scenes, Arguments and Conflict, this book has shot techniques for everyone.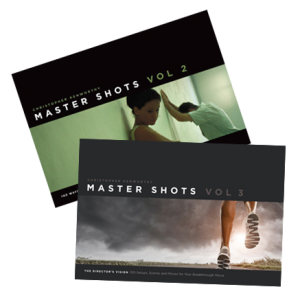 Be warned though, once you have read this book, there are two more books by the same author in the Master Shots series that you will likely want to purchase as well. I plan to do reviews of Master Shots Volume 2: Shooting Great Dialogue Scenes and Master Shots Volume 3: The Director's Vision in a future post.
Sincere thanks to Christopher Kenworthy for documenting the multitude of techniques he has learned and used over the years into an accessible book that every independent filmmaker should have on their book shelf. If I were asked to rate this book on a scale of 1 to 5, I would give it a solid 5. Highly recommended!
Click any of the book images for more information and pricing.